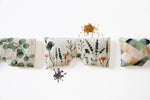 Every item we produce at Intui comes with the reassurance that it will be kind to you and kind to the planet.
Our beautifully-crafted Bliss Eye Pillows are no exception.
From the outset, we wanted to create an eye pillow that was ergonomically perfect, non-toxic, soft on the skin and aesthetically pleasing.
With the help of two talented British designers – print designer Katie Hipwell and product designer Alex – and our trusted factory partners in India, we feel we've achieved a great result!
Sourcing the fabric
After much searching we chose a reputable eco manufacturer in North India for the production of our fabric.
Many of today's eye pillows can contain synthetic materials, and so are not aligned with Intui's values. We always knew a natural fibre would be the only choice for us.
Founder Anushree Puri says: "At the start we were quite confident about being able to use linen, which is both durable and gets softer with every use. However during sampling we found a fabric that mixed organic cotton and linen that won us over.
"It had the best of both worlds, was softer than our linen samples and the blend gave it a perfect natural tone to print on."
Print inspiration
The striking prints for our eye pillows were designed by the talented Katie Hipwell, who has worked for more than a decade in the design industry creating prints and fabrics for renowned brands such as Boden, Cath Kidston and Osborne & Little.
Katie says: "The prints are designed to be soft, natural and relaxing, created in gentle handcrafted watercolour textures. The colours are in keeping with the Intui palette, that's been inspired by relaxation, wellbeing and nature.
"One challenge was getting the designs to work on a small scale to fit the eye pillow size, while also maintaining the detail of the original paintings."
Intui's three print designs are:
Eucalyptus leaves (Evergreen) - a calm all-over design inspired by these beautifully shaped leaves in soft pastel greens
Wildflowers (Wild) - lavender, linseed and wild meadow grasses inspired this placement print with the foliage growing up the eye-pillow
Watercolour Geometric (Geo) - a soft geometric design in gentle colours, inspired by prisms of light and the shapes that these create
Printing and manufacturing process
The fabric is first sent for digital printing, after which it goes back to the factory to be cut as per the design pattern and then stitched. This is followed by a rigorous quality control check.
A certified organic fabric guarantees that no synthetic pesticides and fertilisers are used. This is safer both for the farmers and for the delicate ecosystems that surround them.
Along with a simple, natural filling, all the different parts come together in a harmonious product with a low impact on the environment.
The dried lavender we've chosen for the filling is also a very effective yet low-impact aromatherapy agent.
Anushree says: "I think we have a responsibility both toward the consumer and in standing on our own values to strive towards eco-friendly approaches. In our mind everything should be environmentally conscious, and we want to live up to that."
The finished design
We believe that our product offers the best ergonomics anywhere for a yoga eye pillow.
You really have to put it on to appreciate its unique fit, feel and super-soft comfort!
We didn't produce the perfect design first time round – but with perseverance we achieved our goal.
Product designer Alex says: "While designing the shape and feel there was a lot of testing. We didn't take anything for granted when looking at existing designs, and ended up with what worked best for us.
"In terms of the shape, print and getting the details right, we had a back and forth with manufacturers to make sure everything was perfect. We didn't want to compromise but at the same time we had to understand what was achievable.
"There are qualities we've carefully built into the design which you maybe wouldn't fully appreciate until you've experienced the product – such as how the curvaceous design keeps pressure off the nose, and how the filler distributes evenly.
"The product embodies a lot of Intui's themes, being an all-natural and simple product meant to encourage and support mindful practices and self-care – and Katie's prints look lovely and add a lot of character.
"The whole product just works, whether you're looking to improve your experience of Savasana, or simply wishing to enjoy a deeper level of relaxation or stress relief."